Internet for any connection
The 7490 gets your home network running at top speed, regardless of whether you have an ADSL or VDSL connection. Thanks to cutting-edge hardware, Wireless AC, gigabit LAN, and USB 3.0, you can enjoy lightning-fast connectivity and make progress bars a thing of the past.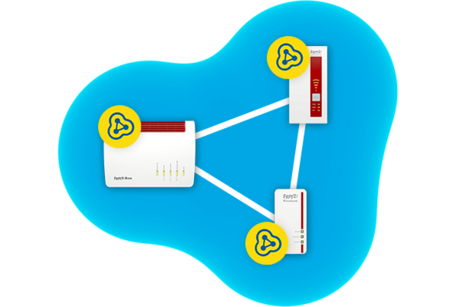 Mesh WiFi with FRITZ!
The FRITZ!Box 7490 supports Mesh WiFi, meaning your videos, music and photos seamlessly reach every corner of your home, apartment or office. How does it work? The FRITZ! devices work together as part of a single network, communicating with each other andoptimizing your devices and network usage.
With Mesh networking you can enjoy high speeds while surfing, streaming or gaming. Instead of waiting for breathtaking HD television and your favorite music, your media will wait for you.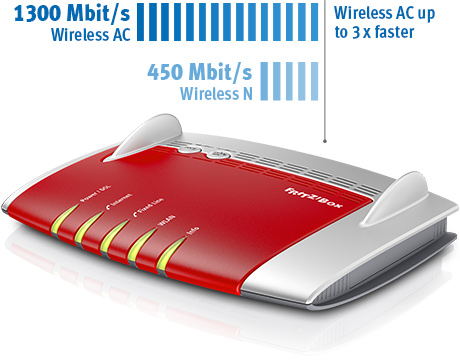 A new dimension in Wireless LAN
Not only does new Wireless AC boast a considerably larger range, but it's also three times faster than existing standards. The choice of two wireless frequencies allows you to optimally incorporate all your devices: from tablets and laptops through to smartphones, everything is connected at top speed.
The ultimate in convenient telephony
You can connect all your phones to the FRITZ!Box 7490 and stay informed of calls and voice messages, even when you're not at home. Multiple answering machines and a fax function give you even more convenience.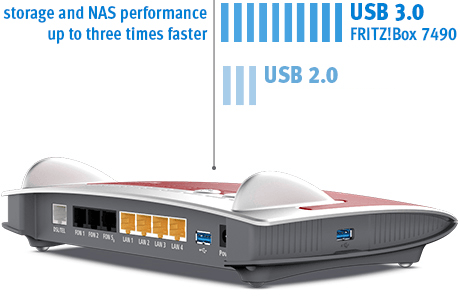 Always entertained
With the 7490, you can always enjoy technically flawless entertainment throughout your home network. Thanks to its high-performance USB 3.0 ports, FRITZ!Box is the perfect multimedia hub, with music, images, and movies instantly available everywhere, so breathtaking HDTV and your favorite music now come to you – and not the other way round.
FRITZ!Box – a safe bet
Play it safe with FRITZ!Box. Each device boasts a comprehensive range of security features to safeguard your communication. We continuously test and refine these features, and give you peace of mind with free updates.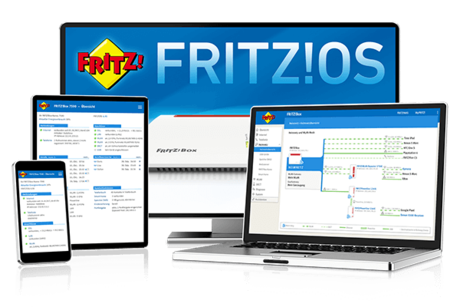 FRITZ!OS – bursting with benefits
FRITZ!OS, the operating system for your FRITZ!Box, regularly provides you with new features. Thanks to FRITZ!Apps, you can access your data from your smartphone when you're not at home, make calls within your home network, or operate your playback devices. It goes without saying that all updates and apps are free of charge.
Award-winning simplicity
Honored by trade journals and praised by users, the FRITZ!Box operating concept has just one goal: to keep everything as simple as possible. A clear user interface and step-by-step wizards help make this happen.

Complete high-speed home networking
Spectacular wireless speed along with significantly greater range with the super-fast Wireless AC standard. Experience full variety in one device: for internet, telephony and multimedia.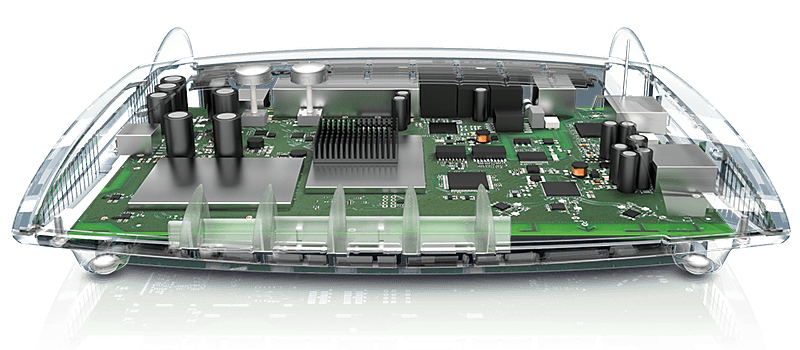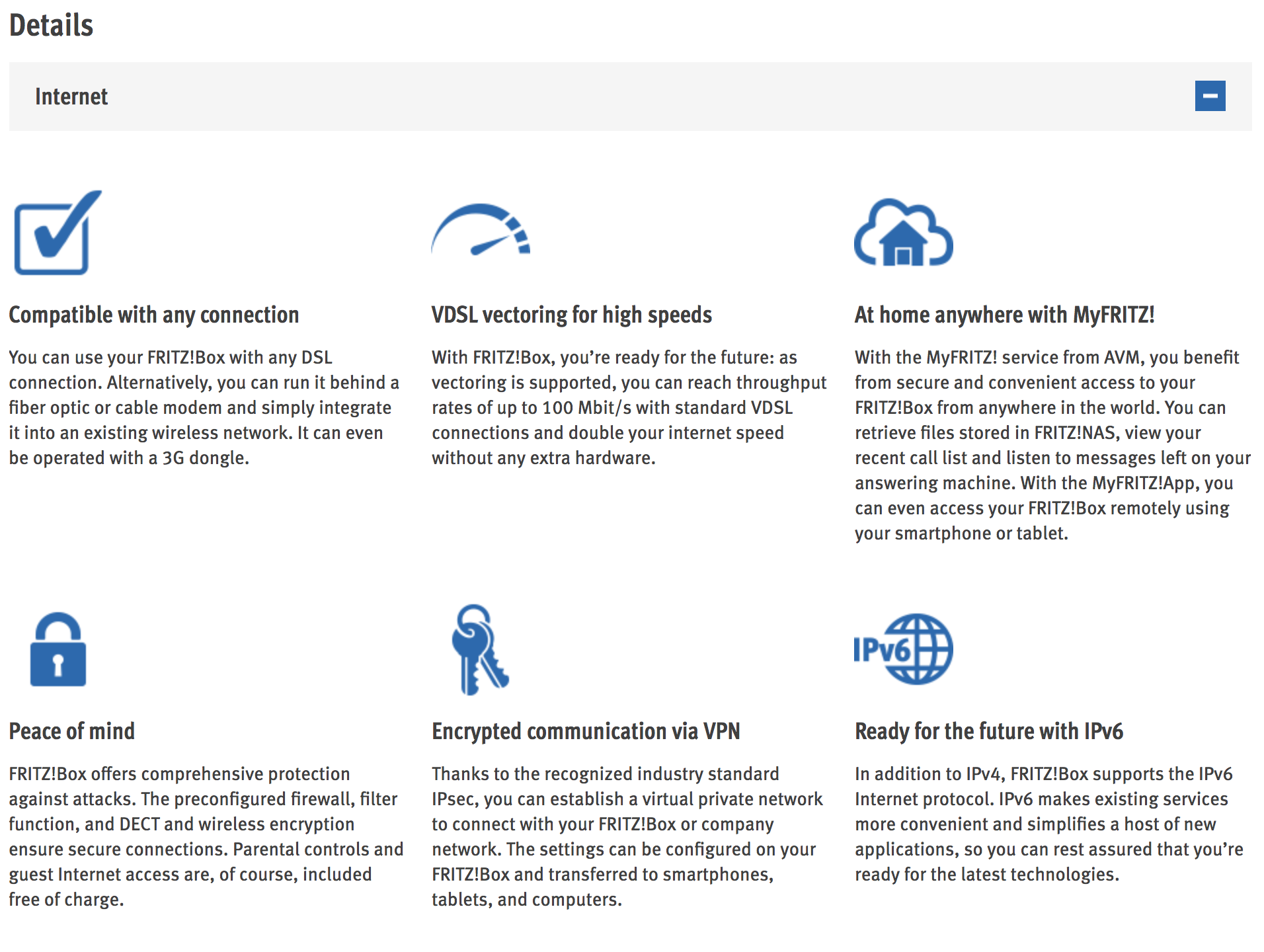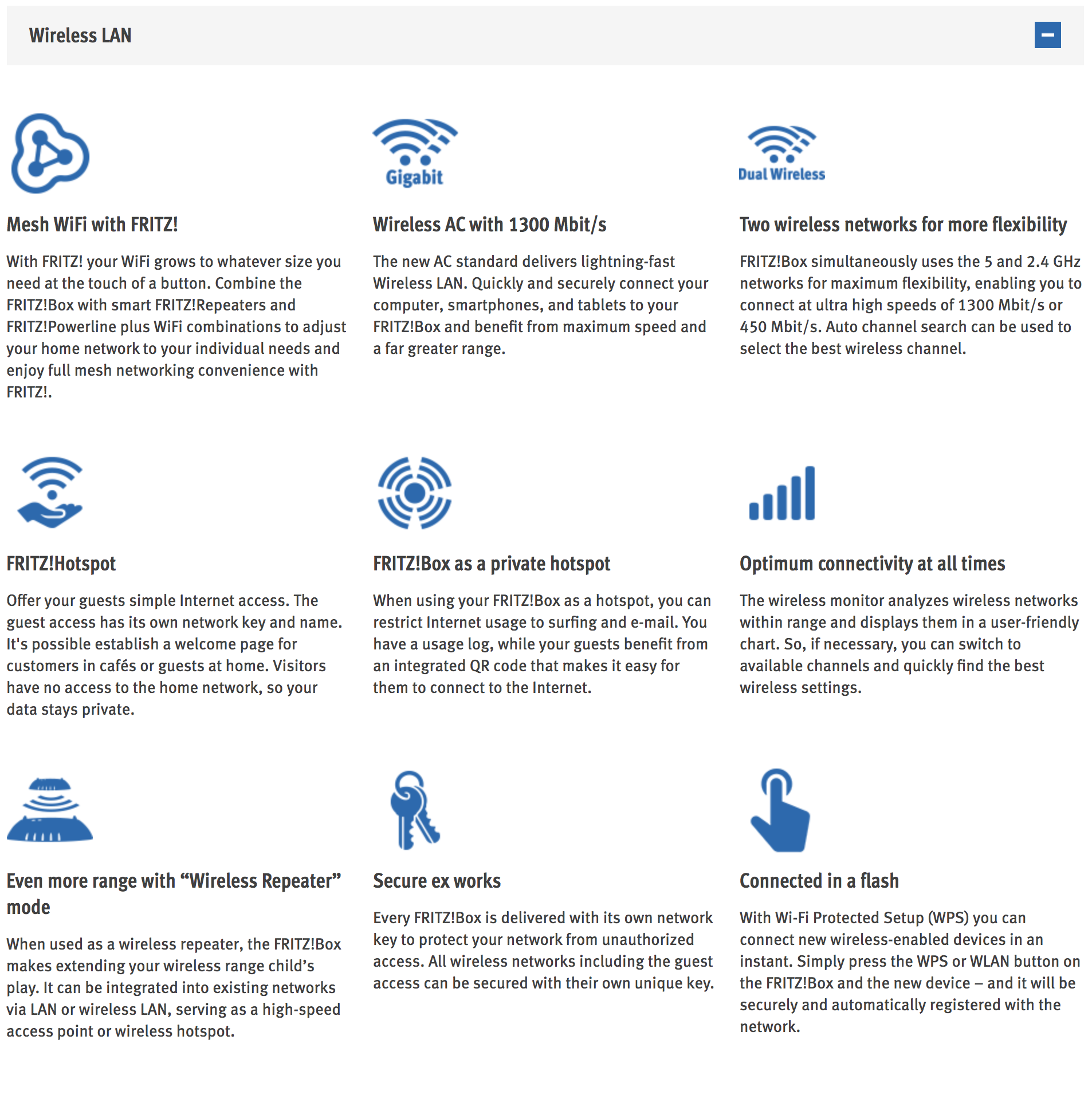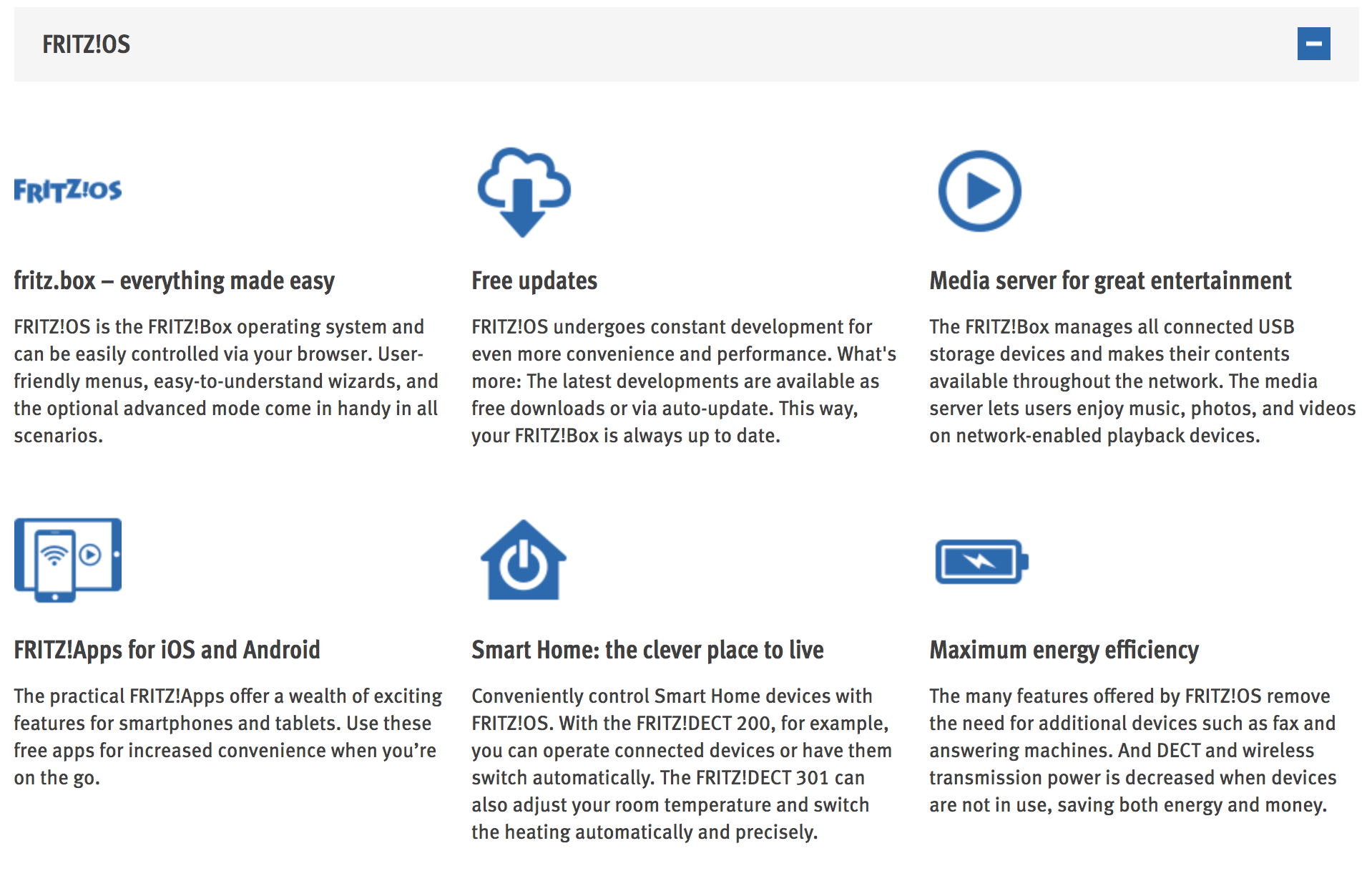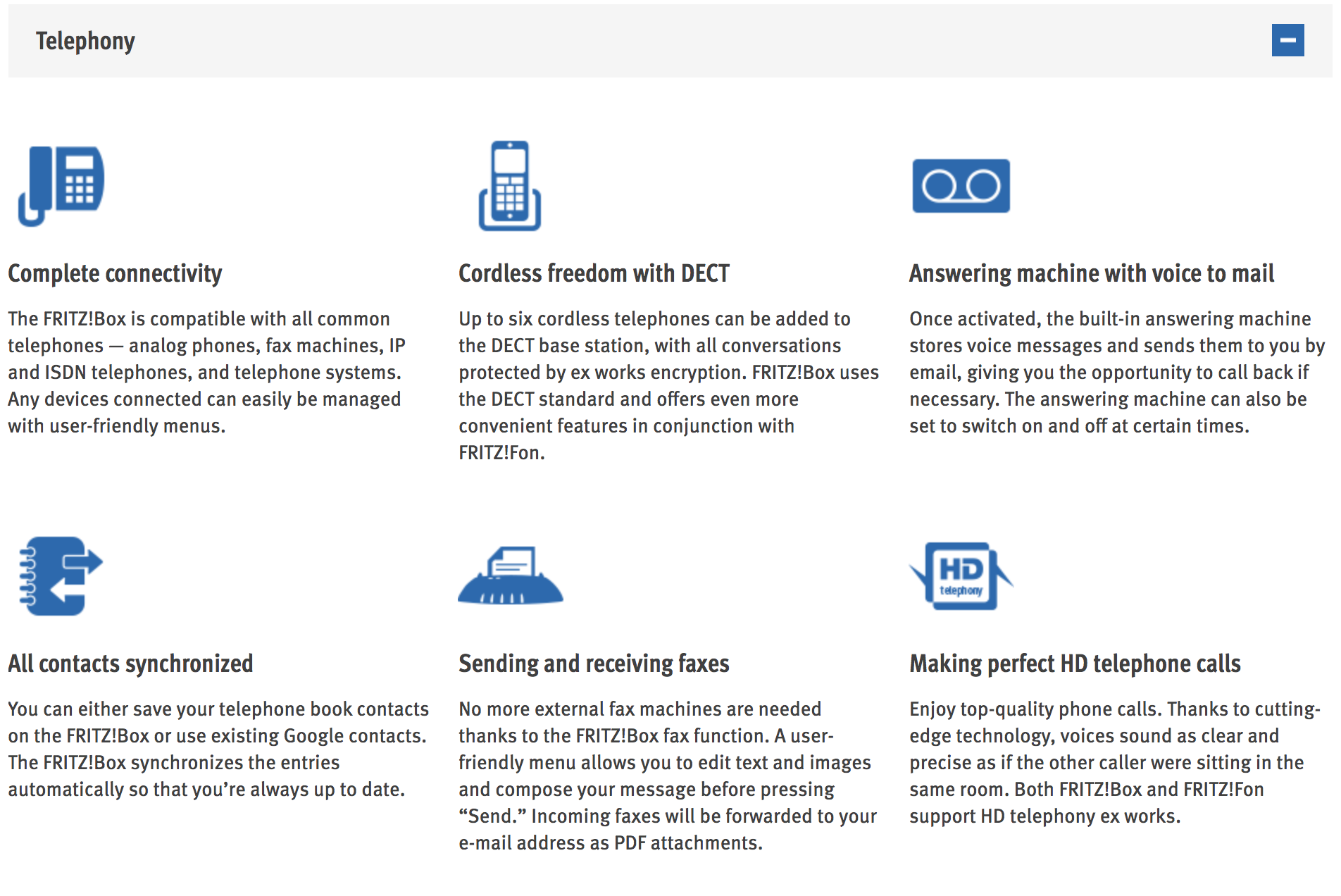 Interfaces
VDSL or ADSL line
All-IP, analog or ISDN landline
4 x gigabit Ethernet, WAN via LAN 1 port
Wireless AC with up to 1300 Mbit/s
Wireless N with up to 450 Mbit/s
2 USB 3.0 ports for printers and storage media
DECT base station for up to six handsets
ISDN S₀ bus for ISDN telephones or ISDN telephone system
2 a/b ports for analog telephones, answering machines and fax
Internet
DSL router with firewall/NAT, DHCP server, DynDNS client, UPnP AV
VDSL or ADSL line with optional analog or ISDN landline network
Supports 100 Mbit VDSL lines with full vectoring
Use of existing Internet connections via LAN and wireless LAN
Router operation even at a cable modem, glass fiber connection or with a 3G/4G dongle (LTE/UMTS/HSPA)
Support for IPv6
Stateful Packet Inspection Firewall with port forwarding
Secure remote access over the Internet with VPN (IPSec)
Wireless LAN
Wireless AC (up to 1300 Mbit/s gross, 5 GHz) and N (up to 450 Mbit/s gross, 2.4 GHz)
With Mesh WiFi you can combine several wireless access points into one intelligent system (FRITZ!OS 6.90 and later) Find out more at en.avm.de/mesh
Compatible with Wireless 802.11g, b and a
Secure ex works with WPA2 encryption
AVM Stick & Surf: automatic security for wireless surfing
WLAN pushbutton (to switch wireless LAN on/off manually)
Wi-Fi Protected Setup (WPS)
Wireless guest access – secure surfing for friends and visitors
Wireless network range extended through repeater function
Wireless auto channel: Automated search for wireless LAN radio channel free of interference
WLAN Eco for optimum performance at minimum power consumption
Telephony
Telephone systems with DECT base station for up to 6 cordless telephones
Voice transmission encrypted upon delivery
ISDN S₀ bus for connecting ISDN telephones/ISDN telephone system
2 a/b ports for connecting analog telephones, answering machines and fax
Supports HD telephony for natural sound
DECT Eco: Radio network switches off ergonomically
5 integrated answering machines featuring voice-to-mail
Fax function including e-mail forwarding (fax-to-mail)
Call diversion, internal calls, three-party conferencing, call transfer
Call blocks, alarm, baby monitor, VIP calls and Do not Disturb
Internet telephony SIP-compliant in accordance with RFC 3261
Registration of IP telephones (LAN/WLAN) SIP-compliant
FRITZ!App Fon for telephony with Apple iPhone (iOS4 or higher) or Google Android (2.1 or higher)
Convenience for the home network
Media server makes music, pictures and videos in the network available to devices in the home network (SMB, FTP, UPnP AV)
With MyFRITZ!, secure access to your own FRITZ!Box from anywhere
FRITZ!NAS – simple, browser-based access to all files in the network
512 MB internal memory
Platform for networked applications like IPTV, video on demand and media streaming, thanks to the powerful dual-core processor
Parental controls, push service, cloud contacts, online storage
Guest access: sharing of existing Internet connection over LAN or wireless LAN
Wake on LAN over the Internet
Supports devices compliant with DLNA
FRITZ!OS
"fritz.box": multi-language user interface, for intuitive operation via Web browser
User interface optimized for smartphones and tablets (responsive design)
Free updates for new functions and security
Advanced view for special configuration options, help function with full-text search
FRITZ!Apps for wireless LAN telephone calls in the home network, file access from on the go and more (Android and iOS)
Smart Home features integrated in the user interface
Smart Home support for DECT ULE/HAN FUN devices
Smart Home devices can be switched manually and automatically both in the home network and from the Internet
Interfaces
For the VDSL or ADSL line
ADSL/ADSL 2+ compliant with Annex A, B, J and M
Analog or ISDN landline
4 x gigabit Ethernet (10/100/1000 Base-T)
Wireless access point compliant with IEEE 802.11ac, n, g, b, a
2 x USB 3.0 port for printers and storage media
DECT base station for up to 6 handsets
ISDN S₀ bus (RJ45) for ISDN telephones or ISDN telephone system
2 a/b ports (RJ11) for analog telephones, answering machines and fax
Package contents
FRITZ!Box 7490
Power adapter with 1.5-meter cable
4-meter DSL/telephone connecting cable
1.5-meter LAN cable
Installation Guide
Device properties
Dimensions (W x H x D): 245 x 175 x 55 mm
Suitable for tabletop or wall-mounted operation
Average power consumption: 9.3 W
Warranty
5-year manufacturer's warranty