THE BEST EVER MAVERICK LINE-UP GETS + SIZED TRUCKS AND SUPERSIZED ACTION
The Quantum range has taken RC bashers by storm and we're stoked to be adding these XL-sized versions to the rapidly expanding range! Quantum+ FLUX kits are set to be fan favourites with any RC basher looking for a BIG boost to their fleet. All Maverick Quantum XTs are rugged 4WD Shaft-Driven, low slung dirt trucks built to blast about and tear up any terrain! With independent Double Wishbone Suspension, Oil Filled Adjustable Coilover Shocks and Tough Metal 4-Gear Differentials, no amount of dirt or jumps stand in their way!
And with the Quantum+ FLUX, we didn't just simply make the current top-selling Quantum XT bigger…
+ We designed a new, low-profile, super-aggressive body complete with menacing liveries.
+ We rolled out bold, OVERSIZED bespoke MVK 3.2″ wheels with traction-hungry Entanglement Tredz Tires.
+ We fitted a new, centre differential for ultimate handling and power distribution.
+ We strapped in some mighty FLUX 3S power, with specially optimized gearing and HD Universal Drive Shafts & Rear Axles – Fitted as standard!
+ Did we mention its BIGGER?! With a wheelbase measuring 325mm vs 285mm and a width of 365mm vs 350mm compared to the original Quantum XT.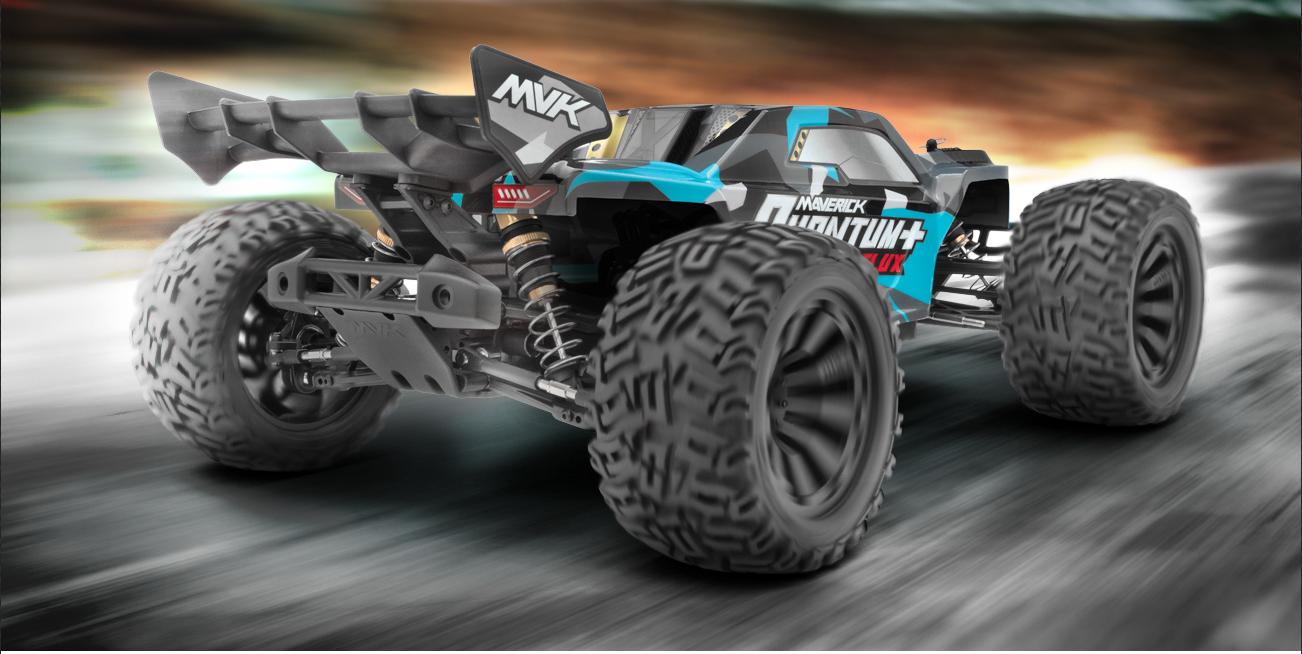 UNLEASH THE BEAST FOR SOME CRAZY ACTION!
To haul the mighty Quantum+ XT we had to strap in HPI Racing's famous FLUX power system, ready to blast 3S LiPo power through gearing specially optimized by the HPI Racing team*. After rigorous testing, we determined that the 49T Spur with 12T Pinion will give you the biggest bang for your buck!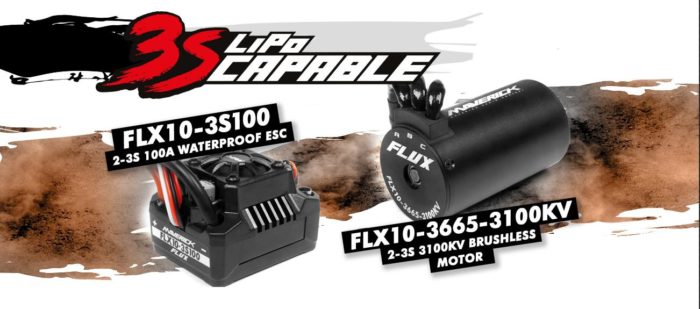 Plus, with a 3665 3100KV FLUX brushless motor with a 5.0mm shaft and 100A waterproof ESC, we're confident the Quantum+ FLUX will not fail to impress!
REAL STEERING WHEEL CONTROLLER INCLUDED!
Anyone who has used a Maverick RC vehicle before will tell you that the MTX-244 transmitter makes for a fantastic driving experience with great throttle and steering response. When it comes to the Maverick 2.4GHz radio system we cut no corners on quality or feel.
IT'S SO EASY AND FUN TO DRIVE!
To drive the Quantum+ 3S XT Flux, simply pick up the controller with your left hand, put your left index finger into the trigger area, and then put your right hand on the steering wheel – it's as natural as driving a real car! Turn the wheel to go left and right, and gently pull on the trigger with your left index finger to go forwards. To stop the car, gently push away from you with your left index finger – then release and push away again to go into reverse. It takes seconds to get used to this easy operation, and pretty soon you'll be racing with your friends!
HD UNIVERSAL DRIVE SHAFTS AND REAR AXLES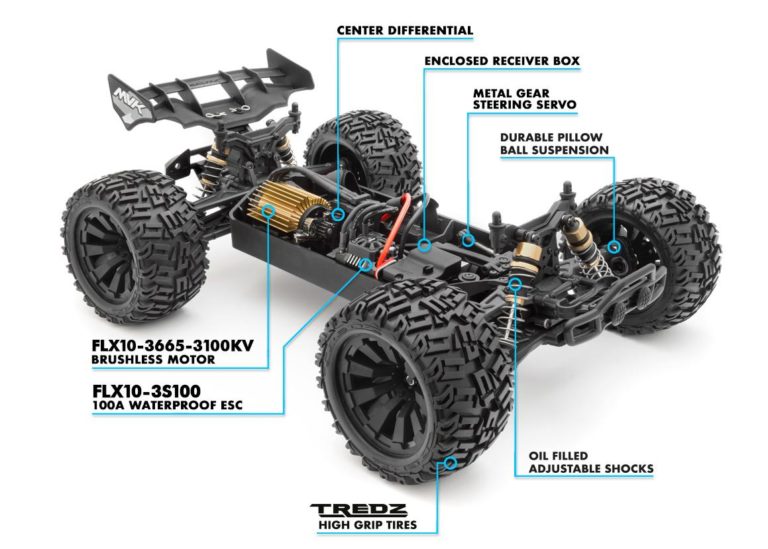 We've beefed up the driveshafts with these HD Wheel Axle Shafts and Universal Drive Shafts machined from high strength steel for maximum durability so you can bash and blast with confidence, simply pull the trigger for white knuckle speed runs and massive jumps!
QUANTUM+ XT FLUX – OPTIMIZED HANDLING
In another new development, our R&D team have equipped the Quantum+ FLUX with a centre differential. This improves the handling & drive-ability of the beast by splitting the power distribution between the front & rear of the truck.
INTRODUCING TREDZ TIRES BY HPI RACING
For the Quantum+ lineup, we're adding another tire to our new TREDZ range. Fully bespoke with compound, profile and grippy tread pattern designed and specified by HPI Racing. Wrapped in high quality, high grip rubber and oversized to fit perfectly with the new 3.2″ MVK wheel design.
Tredz 3.2″ Tires by HPI Racing are also available to purchase and upgrade the look and performance of any RC vehicle with 14mm Hex Hub wheel fittings. Look out for more tires joining the Tredz family soon!
SIZE MATTERS!
When it comes to dominating the dirt jumps the Quantum+ FLUX gives you a good boost in length and width with a wheelbase measuring 325mm vs the 285mm of the standard Quantum XT. Plus this perfectly proportioned broad-shouldered beast measures in at 365mm width vs 350mm on the original XT.
Every Maverick Quantum kit features a fully detailed and painted body with a design that not only looks amazing, but it also provides additional protection for the chassis components.
#HPIMV150300 MAVERICK QUANTUM XT+ FLUX 1/10 4WD BRUSHLESS STADIUM TRUCK BLUE / GREY
ALSO AVAILABLE IN RED / GREY #HPIMV150301
Items Required:
4x AA Batteries for transmitter
2S or 3S LiPo pack with T-plug – HPI Recommends #160161 2S LiPo or #160163 3S LiPo
Battery charger for car battery – HPI Recommends Reactor 200 –  #HPI118051
Features:
4WD shaft drive
Independent Double Wishbone Suspension
Oil Filled Adjustable Coilover Shocks
Pillow Ball Front & Rear Suspension Uprights
Front Universal Drive Shafts
Adjustable Steel Turnbuckle Links
Tough Metal 4-Gear Differentials Front & Rear
Center Differential
Dual Point Bell Crank Steering System With Integrated Servo Saver
Molded Tub Chassis with Hex Pattern Reinforcement
Enclosed Receiver Box Protects from the Elements
Complete Set of Ball Bearings
Oversized 3.2″ Wheel Design
14mm Aluminum Hex Hub
TREDZ High Grip Tires
2.4GHz Radio Set with Waterproof Receiver
9kg Metal Gear Water-Resistant Servo
3665 3100KV Brushless Motor with 5.0mm Shaft
100A Waterproof ESC
3S LiPo Capable
3S Optimized Gearing  – 49T spur/12T Pinion
Specification:
Length: 505mm
Width: 365mm
Height: 175mm
Wheelbase: 325mm
Weight: 2.10kg