The Viomi S9 Alpha UV intelligent cleaning robot
The Viomi S9 Alpha UV cleaning robot will help you take care not only of tidiness, but also the health of you and your loved ones. UV sterilization allows you to get rid of up to 99.99% of dangerous bacteria. The device can sweep, vacuum and mop floors at the same time, so it can handle dirt perfectly. It also automatically empties the dust tank with the included emptying station. The suction power of up to 2700Pa ensures incredibly efficient vacuuming, and the long-lasting battery guarantees up to 3.6 hours of robot operation. The Viomi S9 Alpha UV is great for your home thanks to its LDS 2.0 laser, and you can also pair it with an app.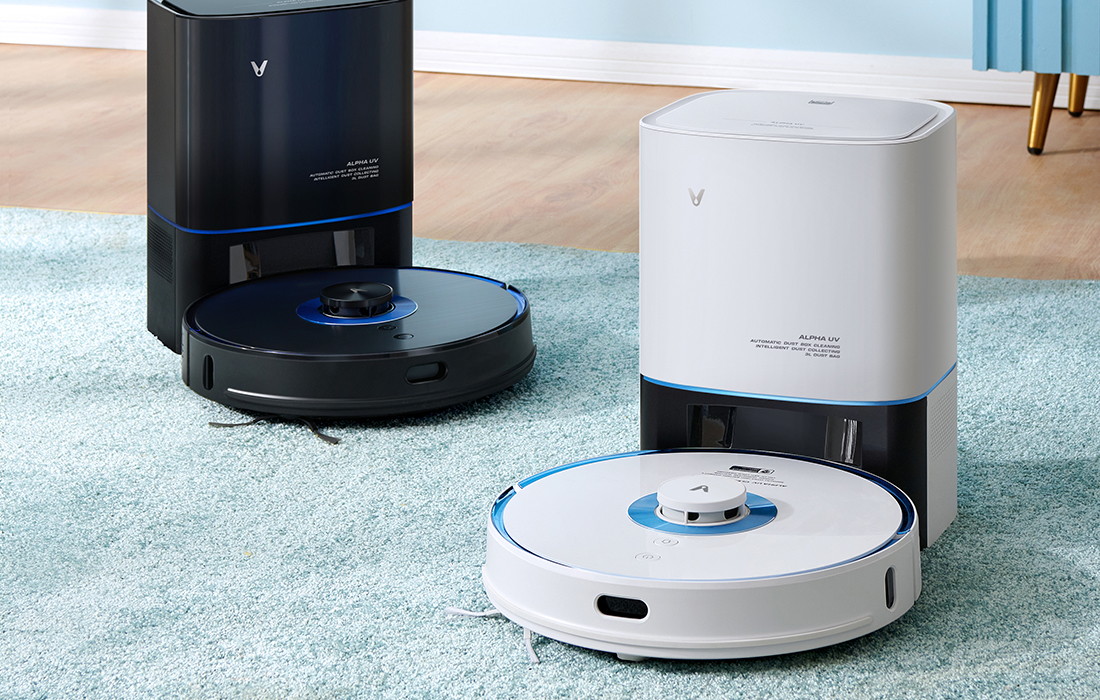 Get rid of dangerous bacteria
Do you know how many bacteria are on the floor? We come into contact with them almost constantly – we walk barefoot, pick things up, and even play with children. So it is worth taking care of the elimination of dangerous germs. Viomi S9 Alpha UV effectively helps you do this – UV light penetrates deep into surfaces and reduces up to 5 types of bacteria without posing a threat to our health. This is much more effective than regular manual cleaning! What's more, the robot is designed to prevent UV leakage – if you turn on standby mode or pick up the device from the floor, the lamp will automatically shut off.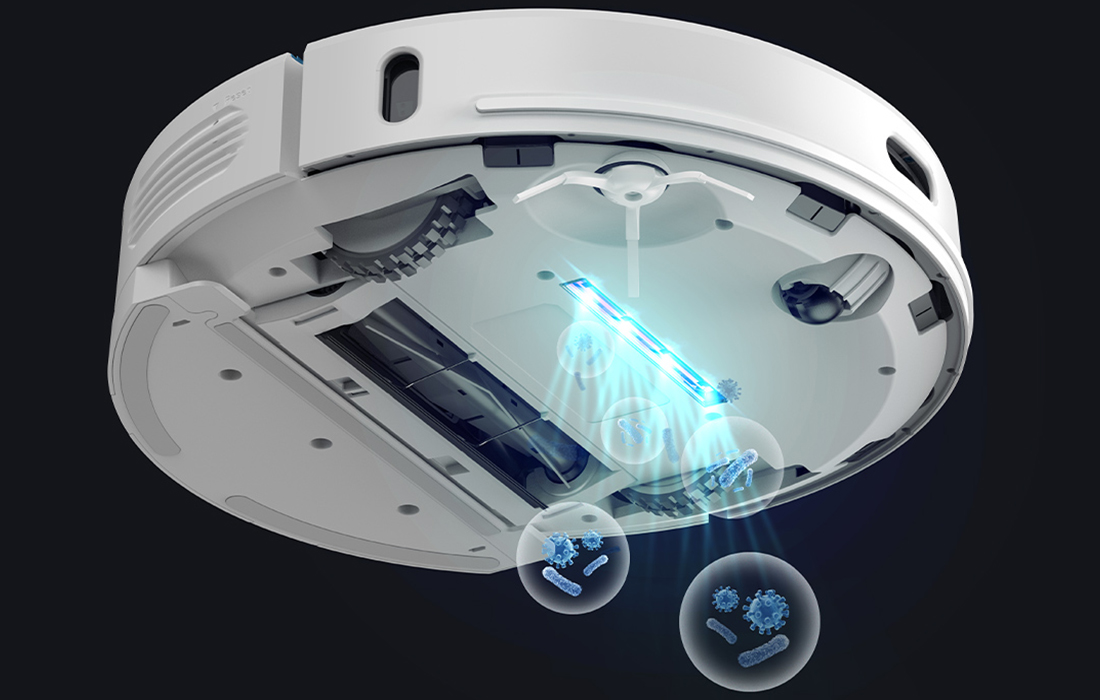 Self-empty your trash can
No longer do you have to empty your waste container yourself. With Auto Dumping 2.0, the Viomi S9 Alpha UV does it automatically, saving you time and reducing contact with dirt. The air channel of the emptying station is only 381mm long, which combined with the 950W power ensures smooth and fast waste collection – don't worry about spilled crumbs or dust remaining on the floor. You only need to change the 3l bag once a month. Don't worry if you forget to do it – you'll see an icon on the emptying station at the right time. You will also receive a notification in the app.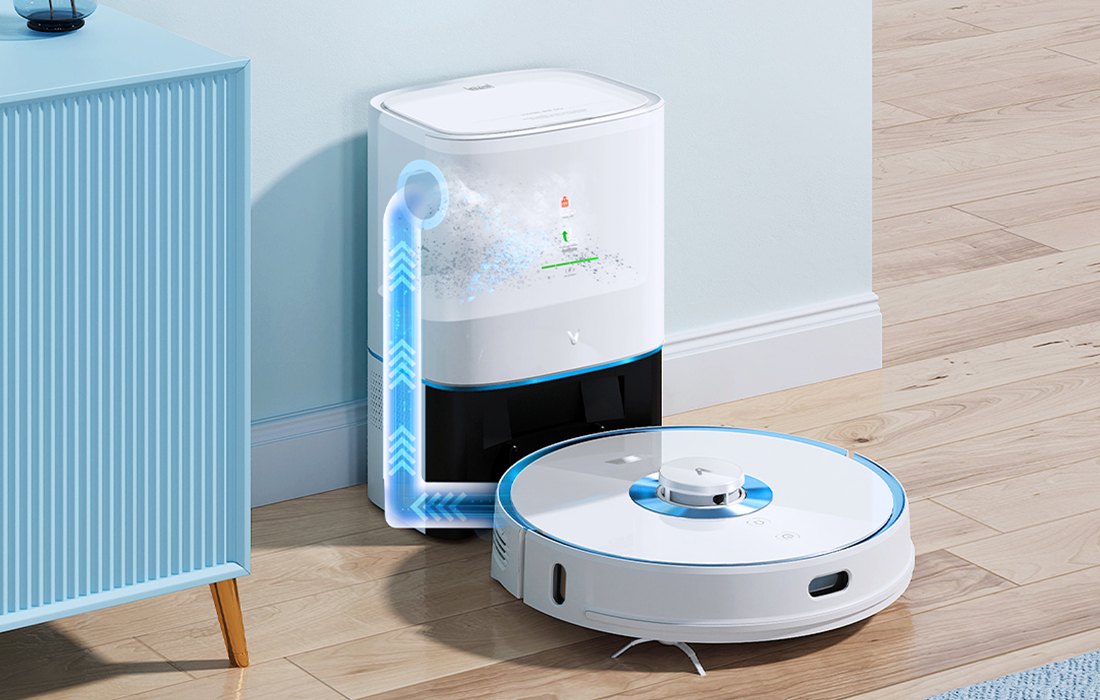 Completely clean your floors
Leave the cleaning to the robot and take care of something else! The Viomi S9 Alpha UV can sweep, vacuum and mop different types of surfaces at the same time. This means that it perfectly deals with a variety of dirt. It effectively eliminates dust and crumbs, gets rid of litter, hair and fur, and tackles stains with ease. Such a versatile device will make your floors sparkle with cleanliness! When you're done, the robot empties its own waste container – no more bending over and wasting time.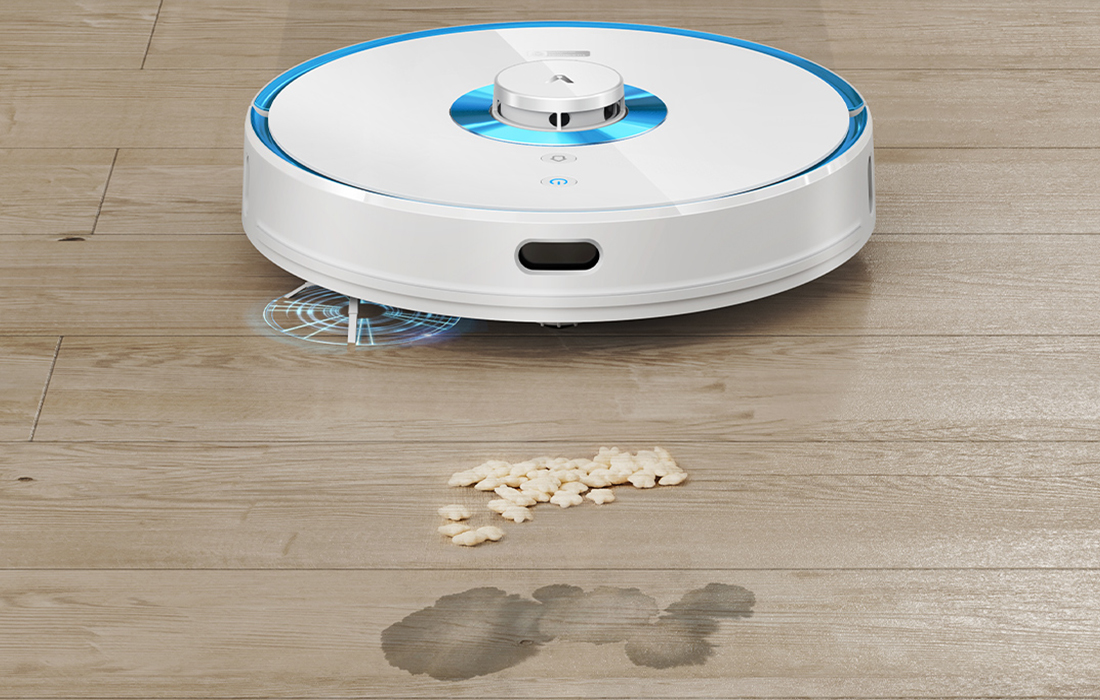 Efficiently vacuums all waste
Experience how effectively the Viomi S9 Alpha UV vacuums. The suction power of up to 2700Pa ensures its high efficiency – crumbs, dust or hair will not resist it. The main brush of the robot is designed to remove waste even from the crevices in the floors, and the additional side brush also sweeps along the walls, leaving no trash in any corner. What's more, the unit detects carpets and automatically adjusts the suction power to thoroughly vacuum the dirt hidden in them.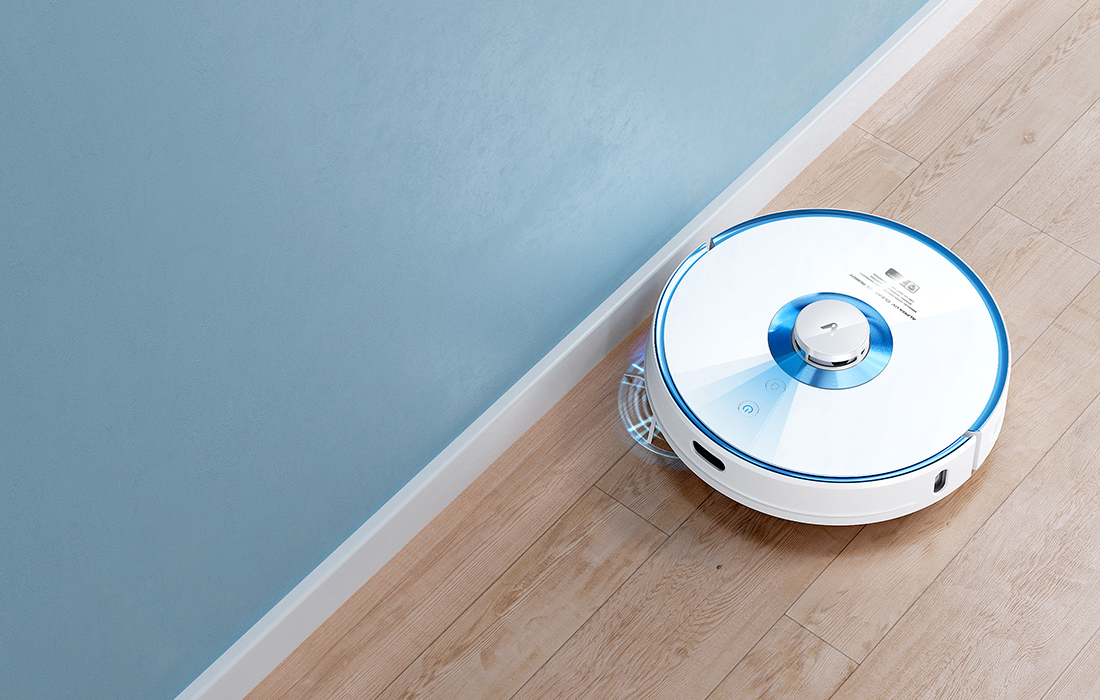 It will thoroughly clean the floors in your home
What makes the Viomi S9 Alpha UV perfect for mopping floors? The electronically controlled, constant-pressure water tank ensures efficient mopping and prevents streaking. Its capacity is 250ml, which is enough to thoroughly clean an area of up to 250m2. Whether your home is small or large, you can always enjoy shiny floors with Viomi. The device also offers 3 levels of water volume, allowing you to adjust its performance even better to your needs.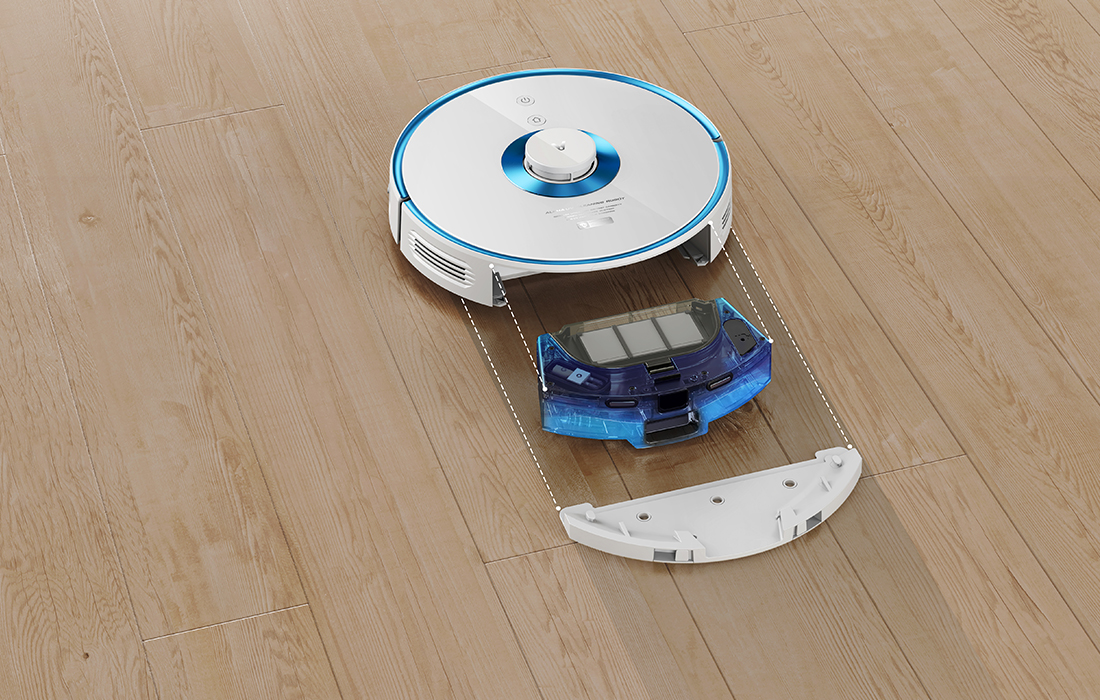 Nothing will stand in its way
The Viomi S9 Alpha UV will find its way perfectly into your home. Its advanced LDS 2.0 laser is responsible for accurately scanning rooms and mapping them. It also allows the robot to intelligently plan cleaning routes to thoroughly clean your floors in the shortest time possible. What's more, with a height of just 9.8cm, it cleans under most furniture without blocking. The S9 Alpha UV also overcomes up to 2cm obstacles – thresholds or carpets won't stop it.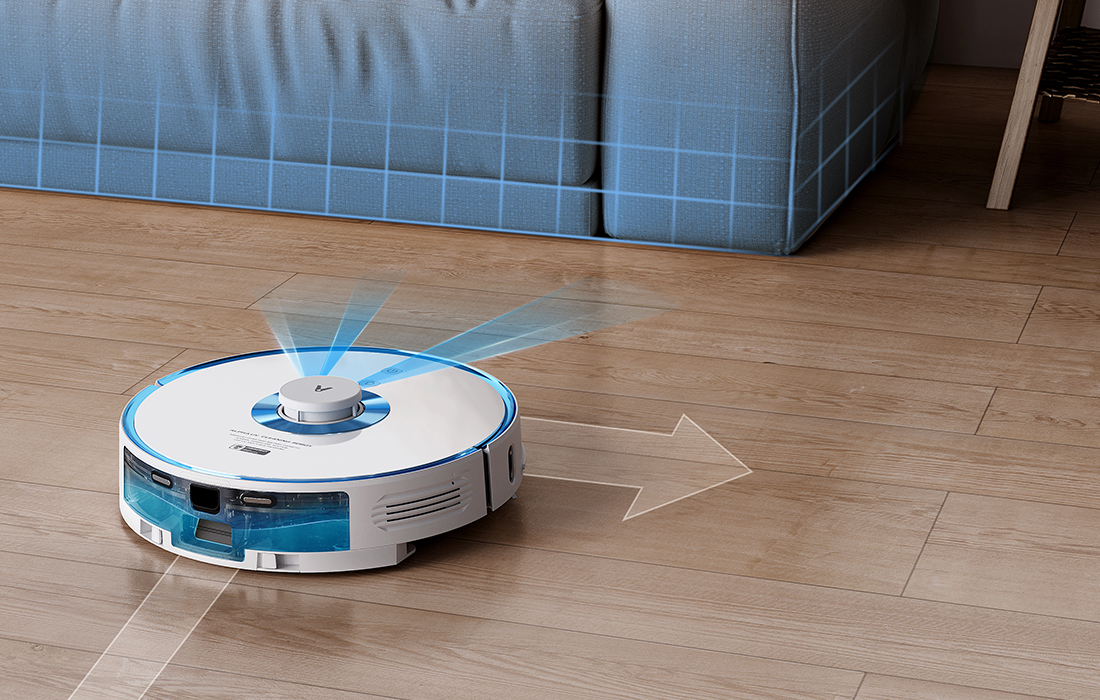 Gain almost unlimited control
Pair your robot with the app and make it work exactly the way you want it to. Manage the maps it remembers, select rooms that should be cleaned, create forbidden areas and put up virtual walls. You can also set detailed work schedules. The app also lets you change the most important settings. Want more? The Viomi S9 Alpha UV is compatible with Amazon Alexa and Google Assistant, allowing you to control it with simple voice commands.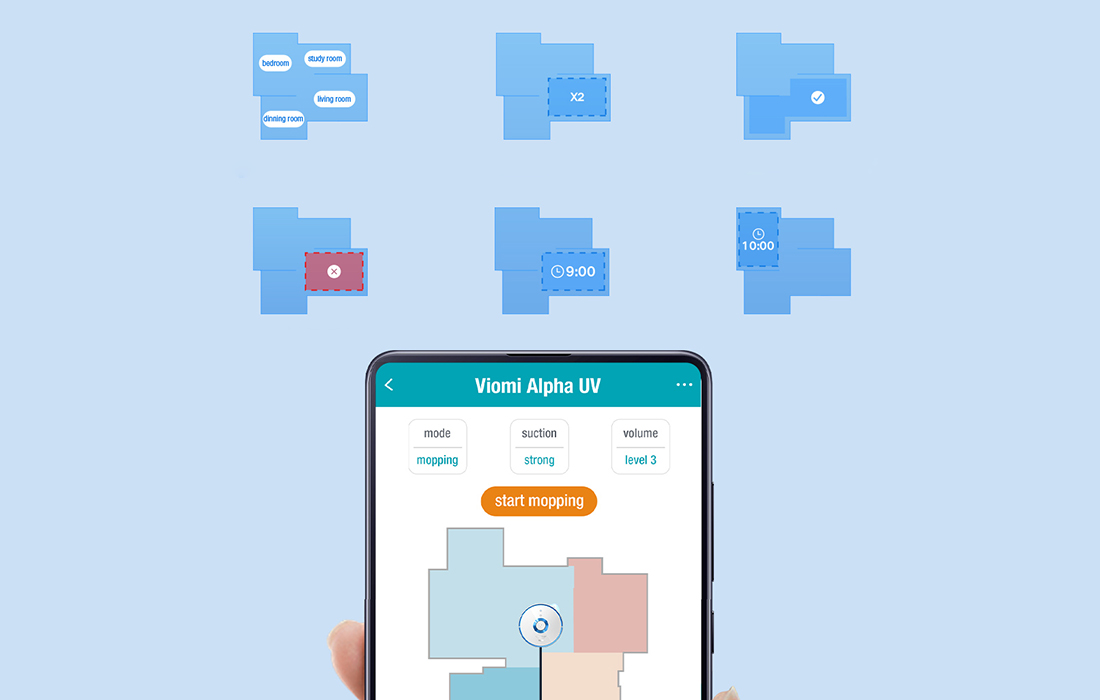 You don't have to worry about it loading
The robot is equipped with a durable 5200mAh battery. Thanks to it, the Viomi S9-UV can clean for up to 3.6 hours on a single charge. This is enough to thoroughly vacuum floors with a total area of up to 320m2. The device is therefore perfect for both small and large apartments. You don't even have to remember to charge the robot – once its battery is low, it will automatically head to the station to replenish its power. It will then return to work from where it left off!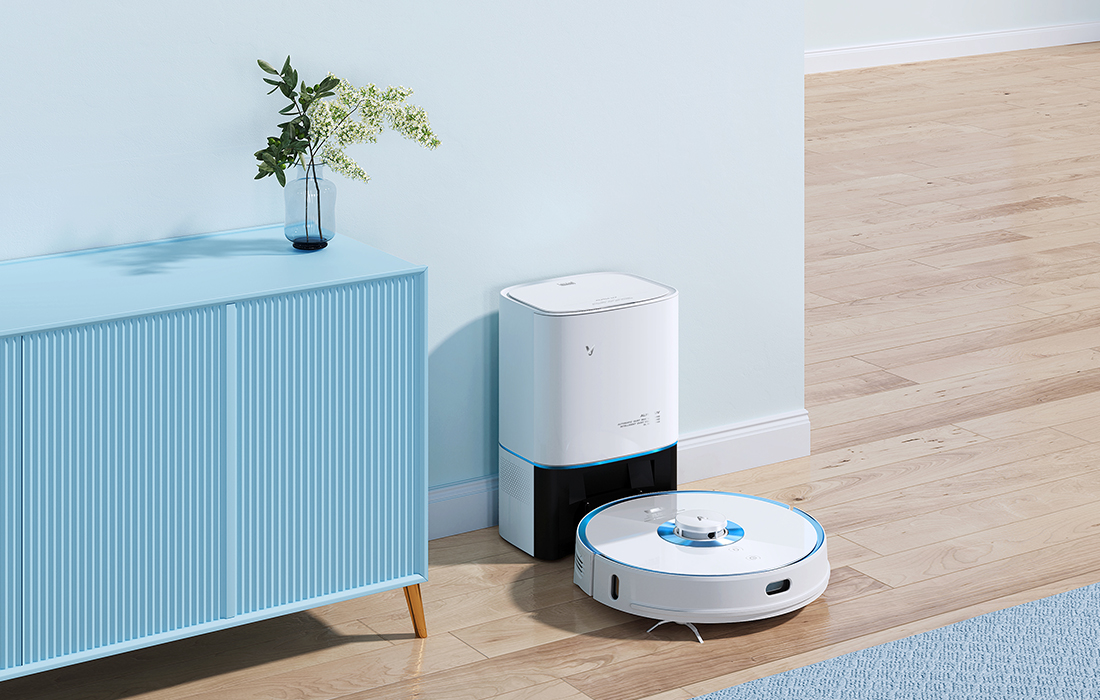 In the box
Vacuum cleaner S9 Alpha UV
Docking station
Dust box/water tank 2in1
Main brush
Side brush
HEPA filter
3x dust bag
UM
Mop handle
Mop
10x disposable mop
Cleaning brush
Προσοχή: Η εταιρία μας δεν εμπορεύεται ανταλλακτικά και αναλώσιμα για αυτό το προϊόν.
Robot specification
| | |
| --- | --- |
| Brand | Viomi |
| Name | Viomi S9 Alpha UV |
| Dimensions | 350x350x98mm |
| Weight | About 3.8kg |
| Rated voltage | 14.4V |
| Rated power | 50W |
| Battery capacity | 5200mAh |
| Operation time | Up to 3.6h |
| Water tank capacity | 250ml |
| Suction Power | Up to 2700Pa |
| Color | White |
| Overcoming obstacles | Up to 2cm high |
| Additional features | Cleaning schedules, automatic dust tank emptying, carpet recognition, map memory, automatic recharging, UV sterilization |
Emptying station specification
| | |
| --- | --- |
| Dimensions | 356x250x193mm |
| Rated power | 950W |
| Rated input | 220V 10A |
| Rated output | 24V 1.5A |
| Input frequency | 50/60Hz |
| Color | White |